2024 CSA Registration Open!
Greetings from the Farm,
We're excited to announce that CSA sign ups for 2024 are now available! There are several options, including Farmer's Choice, Eggs, Flowers and our combination Summer and Winter Bundle: Eat In Season! Currently, these are available for paid-in-full sign ups only while we run our Early Bird promotion. If you order before January 31st, 2024 and use the promo code: EARLYBIRD2024 you can save 3% on your purchase of our 2024 CSA subscriptions. If you are in the Every Other Week A group, your last fulfillment is this week: October 19/20/21. The Every Other Week B group and Full Season Shares have their last fulfillment next week: October 26/27/28 and our last Farm Stand open day for 2023 is Saturday, October 28th. If you have enjoyed your experience with Willowsford Farm this summer, join us for our Winter program beginning November 1st! We still have a limited number of egg shares and Farmer's Choice available!
This Weeks Cycle: The Online Farm Store is open for business! We are in the home stretch of the Summer CSA which means the ordering cycle is now in effect. Place your order between Thursday October 19th and Sunday October 22nd by 12pm for fulfillment on October 26/27/28!
Picked and Paid Policy Update :  Beginning with the 2023 Winter CSA program we are announcing a major update to our Delivery and Pickup Policy: Picked and Paid. We will be distributing a copy of this policy via email and will have printed copies available at the Farm Stand and Boathouse for review. When signing up for 2024, you will receive an email with a link to review and agree to the policy to complete your registration. We appreciate your patience and understanding as we continue to streamline the fulfillment process for our staff, volunteers and CSA members!
Harvest Market: As we get closer to the end of October, we also get closer to the end of Farm Stand season. Our last Farm Stand day for 2023 is Saturday, October 28th and we're going out in style! Join us from 9am-1pm for our Harvest Market! Featuring wagon rides, a makers market, kids activities, a food truck and more! 
Food Truck : KT Pizza will be at the Farm Stand on Thursday, October 19th from 4pm-7pm!
Winter is Coming: We also offer a Winter CSA program from November to January. This program offers 6 fulfillments on a bi-weekly basis and is available for Farmer's Choice, Custom and Egg Shares! Beginning November 1st so sign up today!
Connect With Us : Join us for one of our upcoming programs or volunteer alongside us. Visit the Conservancy Events, Instagram or Facebook pages for details.
Eat well, be well,
– The Willowsford Farm Team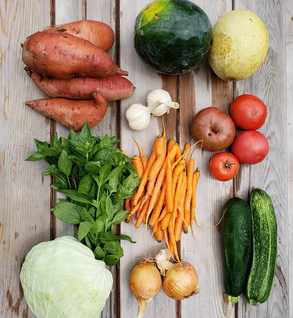 2024 Farmer's Choice : Summer Share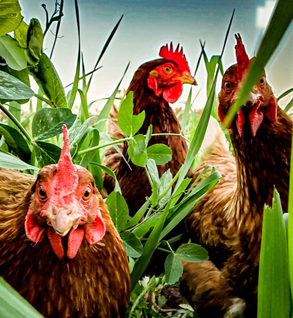 2024 Summer – A Full Summer Season Egg CSA Share
2023 Winter – Farmer's Choice CSA
THE SUMMER SHARE THIS WEEK (Oct. 19/20/21):
Apples, sweet potatoes, garlic, lunchbox peppers, daikon radish, watermelon radish, lettuce, chinese cabbage, green-top carrots, garlic chives and assorted squash!
POSSIBILITIES FOR THE SHARE NEXT WEEK (Oct 26/27/28):
Pink Lady Apples, gold potatoes, carrots, garlic, green kale, red radish, thyme, lettuce, chinese cabbage and possibly more!
Boathouse Pick Up Hours:
Thursday, 4pm – 6pm
Farm Stand Open and Pick Up Hours:
Thursday, 4pm – 7pm
Saturday, 9am – 1pm
Food Truck – KT Pizza 4pm-7pm
KT Pizza is joining us at the Farm Stand this Thursday from 4pm-7pm 
Photos :  This week's carrot harvest! Green-top Carrots in the Farmer's Choice share this week…yum! Farm wildlife focus with a massive toad found in the greenhouse (hand for scale). There are several challenges that come with raising a flock of laying hens here at Willowsford Farm. One of them is predator pressure. Farmer Andy spied this hawk scoping out the coops this week and tossed some walnuts to spook it away from the ladies!
Share With Your Friends & Family
See something you love? Share with your people. We are proud to serve members of our community. Help us spread the word!
Fresh Local Food, Just a Click Away
To protect our land and promote conservation and sustainable farming so that our community discovers a deeper connection to nature and each other.
Copyright © 2022 Willowsford Conervancy, All rights reserved.
www.WillowsfordConserrvancy.org