Miss the Farm Stand Today? Browse our Virtual Shelves!
Greetings from the Farm,If you didn't have a chance to stop by the Farm Stand this week, we've got you covered. In addition to our current offerings, we've added some previously Farm Stand exclusive items for you to enjoy.
Oak View Farms Jams: Based out of PA, Oak View Farms delivers with some of the most flavorful jams around. Certified organic and delicious!
Back Creek Farms Syrups: Tapped and Capped right in Highland County, VA! We're offering some of their interesting syrup infusions. Vanilla Cinnamon is begging to be a part of your Chai Latte.
Steve & Andy's Cookies: Gluten-Free, Vegan, Organic… Need we say more?
The Online Farm Stand closes Sunday @ noon, order today!
Connect With Us : Join us for one of our upcoming programs or volunteer alongside us. Visit the Conservancy Events, Instagram or Facebook pages for details.
Happy Eating,
– The Willowsford Farm Team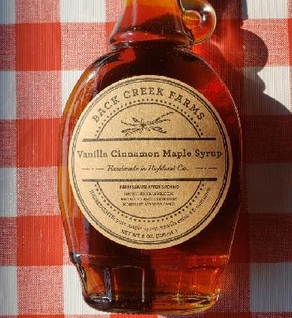 Vanilla Cinnamon Maple Syrup
Vegan Coconut Oatmeal Cookies
THE SHARE THIS WEEK:
Orange crisp watermelon, cantaloupe, carrots, microgreens, garlic, basil, garlic chives, mint, parsley, shishito peppers and cherry tomatoesTHE SHARE NEXT WEEK:  
Orange crisp watermelon, assorted tomatoes, assorted eggplant, garlic, mint, cayenne peppers, Gala apples, thyme, shunkyo radish, salad turnips and potentially green beans!
Flower Varieties This Week :
Zinnias, Ageratum, Sunflowers, Amaranth, Cosmos, Sorgum, Marigolds, Celosia
Saturday, 9 – 1 PM, Food Truck : Stay Tuned on Facebook / Instagram
Get a Pizza the Pie  : Making a triumphant return from our opening week, KT Pizza is back just for today! They're here to serve up some of the most delicious pies in the DMV. Check out their website for the menu and some drool-worthy pics 
Photos: Our awesome volunteers helping to collect Eggs. A sneak peak at microgreens growing in the Greenhouse. Sharing some snacks with the chickens (it's corn!)
Share With Your Friends & Family
See something you love? Share with your people. We are proud to serve members of our community. Help us spread the word!
Fresh Local Food, Just a Click Away